Background and context
The 2017 Azerbaijan Grand Prix, held on the streets of Baku, was only the second time Formula 1 had visited the circuit. The challenging track, with its combination of tight corners, high-speed straights, and narrow sections, had already gained a reputation for creating unpredictable racing. As the teams prepared their F1 model cars for the event, few could have anticipated the drama that would unfold.
B. The chaotic race
The race was a roller coaster from start to finish, with multiple safety car periods, crashes, and controversies dominating the headlines. Early on, championship rivals Lewis Hamilton and Sebastian Vettel were involved in a contentious on-track incident, where Vettel collided with the rear of Hamilton's car under the safety car, accusing the Mercedes driver of brake testing him. This incident not only led to a penalty for Vettel but also added fuel to their fierce rivalry.
Meanwhile, the notoriously difficult Baku circuit claimed numerous victims, with several drivers crashing out or suffering mechanical issues. The Force India teammates, Sergio Perez and Esteban Ocon, made contact while battling for position, causing significant damage to both cars and ultimately ending their chances of a strong finish.
C. Daniel Ricciardo's unlikely victory
Australian driver Daniel Ricciardo started the race in 10th position, driving the eye-catching Red Bull Racing RB13, a car that would later become a highly sought-after Daniel Ricciardo F1 car model for collectors. After a subpar qualifying session, Ricciardo had his work cut out for him if he was to secure a strong result.
However, as the race progressed, Ricciardo began to make his way through the field, demonstrating a combination of skill, cunning, and bravery. He made a series of daring overtakes, including a remarkable move on two cars at once, which saw him move into fifth place.
As the chaos continued around him, Ricciardo found himself in a prime position to capitalize on the misfortunes of others. When the leading cars of Hamilton and Vettel both encountered issues – Hamilton with a loose headrest and Vettel serving a penalty for the earlier incident – Ricciardo found himself leading the race.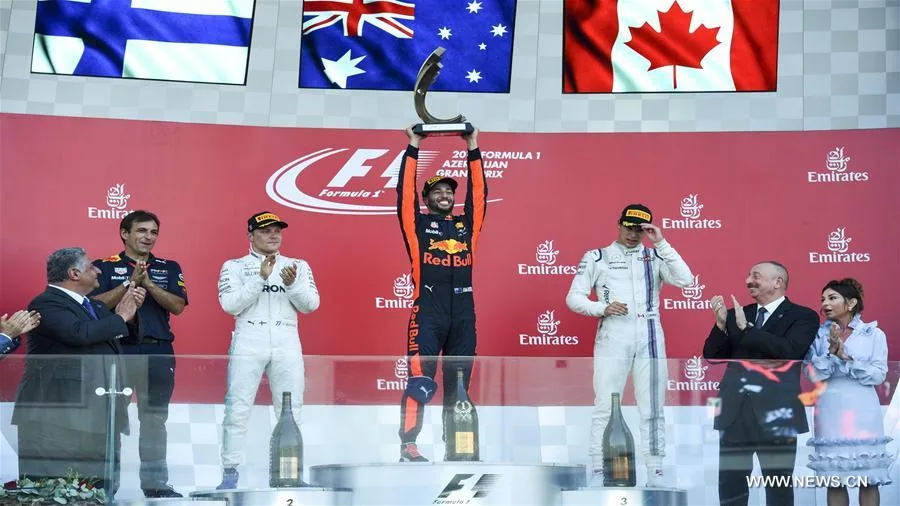 D. The importance of staying composed and seizing opportunities
Throughout the tumultuous 2017 Azerbaijan Grand Prix, Daniel Ricciardo displayed exceptional composure and racecraft. He avoided trouble while others faltered, and he was ready to pounce on any opportunity that came his way. His ability to remain focused and adapt to the ever-changing conditions was a masterclass in modern F1 racing.
Ricciardo's victory in Baku was a testament to the importance of never giving up and being prepared to seize opportunities when they arise. Many factors must come together for a driver to win a race, and Ricciardo's performance demonstrated that a combination of skill, strategy, and a little luck can lead to remarkable success.
E. The aftermath and legacy of the 2017 Azerbaijan Grand Prix
The 2017 Azerbaijan Grand Prix will be long remembered for its chaos, controversy, and unpredictability. The race served as a reminder of the fine margins between success and failure in Formula 1 and the importance of capitalizing on any situation.
Daniel Ricciardo's performance in Baku remains one of the most memorable drives of his career, and the Daniel Ricciardo F1 car from that race, the Red Bull Racing RB13, has become an iconic symbol of his remarkable victory. Collectors and fans alike have sought after F1 model cars from this race, hoping to capture a piece of the drama and excitement that unfolded on that unforgettable day.
In the years since the 2017 Azerbaijan Grand Prix, the Baku City Circuit has continued to provide thrilling races and memorable moments, solidifying its place on the Formula 1 calendar as a fan favorite. The unpredictable nature of the circuit ensures that no team or driver can take victory for granted, and the potential for surprise results remains ever-present.
F. The impact on Daniel Ricciardo's career
The 2017 Azerbaijan Grand Prix was a turning point for Daniel Ricciardo, as it showcased his ability to seize opportunities and drive with unwavering determination. His victory in Baku played a significant role in securing his position within Red Bull Racing and further cementing his status as one of the top drivers in Formula 1.
The race also demonstrated Ricciardo's versatility as a driver, with his ability to handle the changing conditions and maintain focus under pressure. This victory, along with his other memorable performances, has contributed to the strong fanbase that Ricciardo has developed throughout his career. His charismatic personality and never-give-up attitude have made him a fan favorite, and his F1 model cars, especially the Daniel Ricciardo F1 car from the 2017 Azerbaijan Grand Prix, remain popular collectibles.
G. Lessons learned from the 2017 Azerbaijan Grand Prix
The 2017 Azerbaijan Grand Prix provided a wealth of lessons for both fans and teams alike. For fans, the race was a reminder of the unpredictable nature of Formula 1 and the importance of never counting a driver or team out, no matter the circumstances. The race also underscored the significance of strategy, adaptability, and seizing opportunities when they arise.
For teams and drivers, the race served as a stark reminder of the need for consistency, composure, and perseverance. The ability to adapt to changing conditions, capitalize on the misfortunes of others, and maintain focus amid chaos can be the difference between success and failure in the high-stakes world of Formula 1.
As we continue to enjoy thrilling races and memorable moments in the years to come, the 2017 Azerbaijan Grand Prix will remain a shining example of the drama, excitement, and unpredictability that make Formula 1 truly special.