With the sudden influx of new Formula 1 Fans Christmas in 2023 is the perfect opportunity to buy the F1 fan in your life the perfect gift to help them support their current favorite driver or team. Try not to overthink the first purchase and just start with something. Every year new models come out, new sponsors come, team colors change, drivers and team change. So don't stress about it buy something now and then next time you can get the updated version and help them build their entire collection.
We have a more in depth look at different drivers and teams in our F1 Gift Guide page, which is relevant for not just Christmas!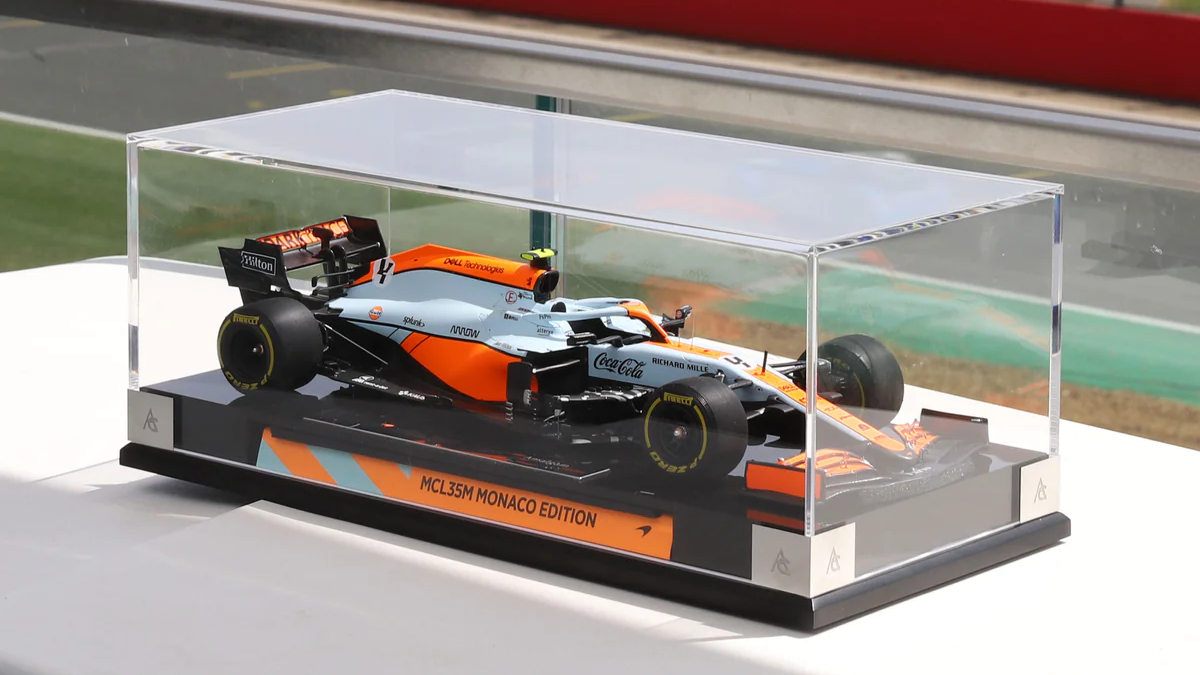 There are a few questions to ask to help get the perfect gift but this guide will help you.
Was there a special race or moment that you and this person shared?
This could form the basis of the gift you buy. Think about the first time they got interested in F1. For example buying the model car from the winner of that race. Like Max Verstappen United States GP car model, from his victory in 2022.
For the Formula 1 enthusiast who likes a personal touch, the Formula 1 Custom Driver and Circuit Poster is a fantastic choice. You can select your favorite driver, pair them with a track of your choosing, and even add a personal message. Whether it's Lewis Hamilton speeding around Silverstone or Max Verstappen taking on Monaco, you get to call the shots. These high-definition, hand-drawn illustrations are printed on semi-gloss photo paper, ensuring a quality finish. The prints are available in various sizes and are shipped worldwide in sturdy card tubes, with custom prints taking a bit longer to process due to the personalized work involved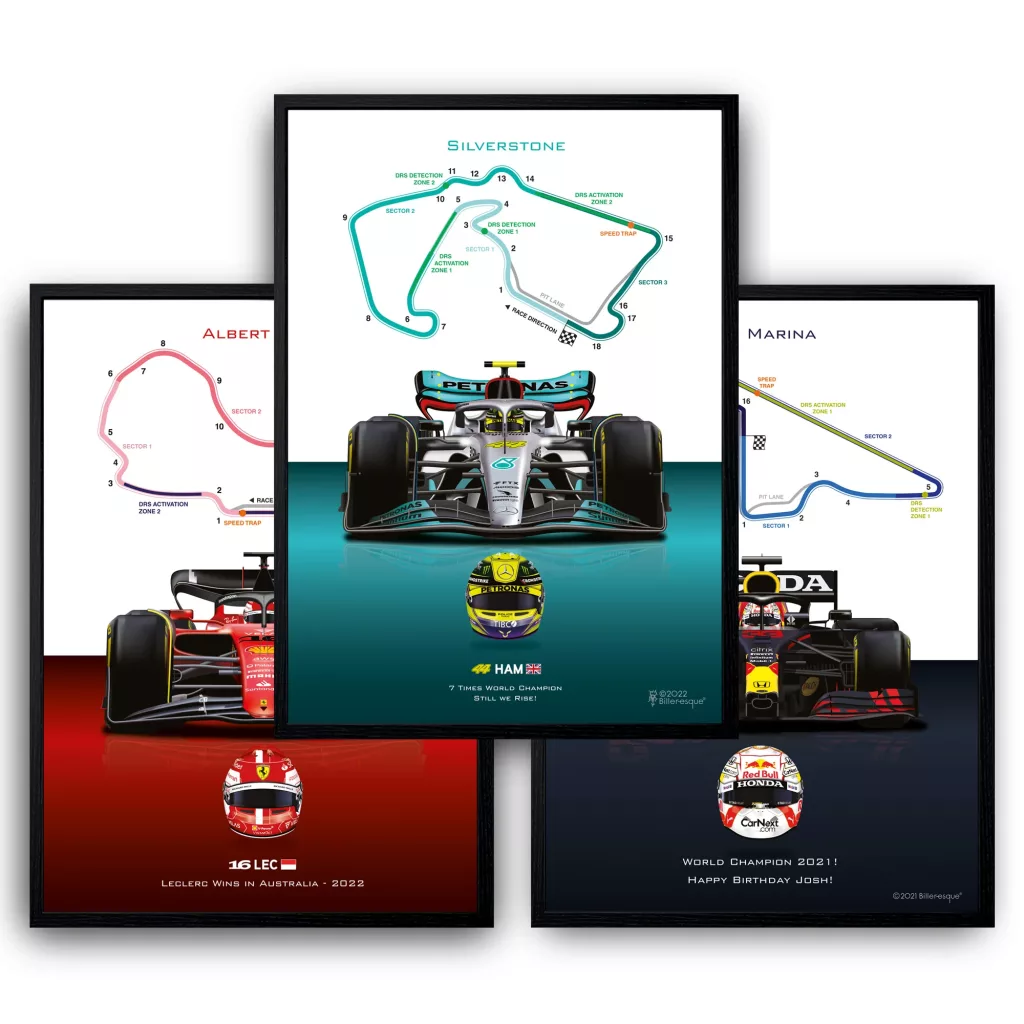 Is there a race track that they love?
Sometimes the best races are not about the drivers but its the race track that brings out the best in someone. You can buy model cars that a specific livery from a specific race in a specific year. There are often special edition liveries such as the Kimi Raikkonen "We will leave you alone now" from his last race in 2021 at Abu Dhabi.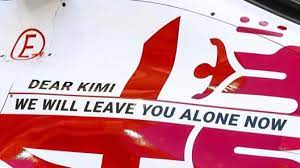 Or The Italian GP in 2022, where Ferrari had a special livery.
Is there a team that they support?
Perhaps they started by watching Driver to Survive and they loved a team principle like Toto Wolf from Mercedes, or Christian Horner from Red Bull, maybe it was Guenther Steiner from Haas and rather than a model car, you want to read his book. (Click the image for the Amazon Link)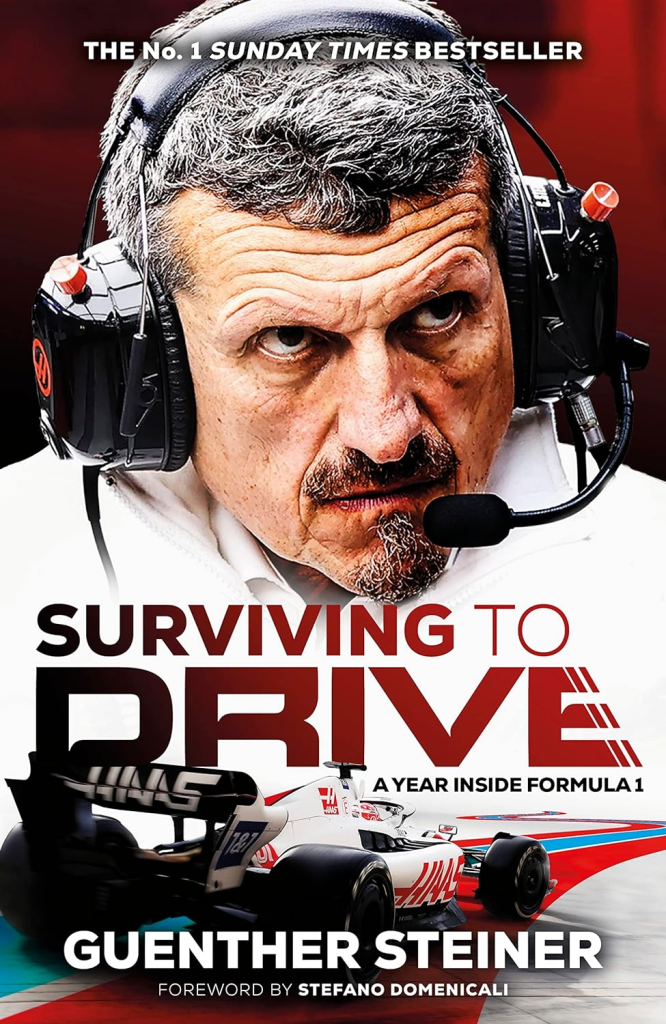 Is there a driver they support?
A lot of people loved Driver to Survive because it shows the personalities of the drivers, and they fell in love with someone specific. There are a lot of different models, sizes, colours and teams. But to make it easier for you we have pulled out the different ones. What you need to do is think about how much you want to spend. 1/18 cars are more expensive than the 1/64 but a 1/18 model car is impressive! read the difference in F1 model sizes.
F1 Model Cars for Christmas Gifts
To make it easier we have broken it down by driver for you, and team below. Giving you a direct link to the product to make your decision easier. As mentioned 1/18 model cars are typically far more expensive than 1/64. A good middle ground is 1/43. Be aware that another factor is quality Bburago and Solido models are great, but MiniChamps and Spark are the high end of f1 models.
Currently our number 1 pick for gifts for F1 fans is below. In 2022 Max won his second F1 championship at the Japanese GP. This model demonstrates that, and can be accompanied by a pit crew collection to make the perfect start of any F1 fans collection. To read more Max specific gifts read the Max Verstappen F1 Fan Guide to gifts
Daniel Riccardo F1 Gift Guides
See more in depth options beyond model cars in our Daniel Riccardo F1 Gift Guide
F1 Fan Gifts
If this special person is just a fan of F1, and you have already bought them a model car (especially one from diecastf1.com) and are looking for something else, here are a few ideas for you.
Adrian Newey's "How to build a car" Book
Adrian Newey is widely celebrated as one of the most outstanding engineers in Formula One history. His innovative designs have led to more than 200 Grand Prix victories and a multitude of titles. Newey's expertise has been pivotal in securing twelve Constructors' Championships for three different Formula One teams. Additionally, his cars have been driven to thirteen Drivers' Championships by seven different drivers. In comparison Lewis Hamilton, regarded to be the GOAT has won only seven.
Newey's journey includes crafting championship-winning cars for Williams F1 and McLaren. In 2006, he joined Red Bull Racing, where he is chief technical officer and is the mastermind behind the current dominance of Red Bull Racing. Under his guidance, Red Bull Racing won both the Formula One drivers' and constructors' championships for four consecutive years from 2010 to 2013, again clinching the drivers' championship in 2021, and securing both titles in 2022 and 2023.
Adrian is the real GOAT.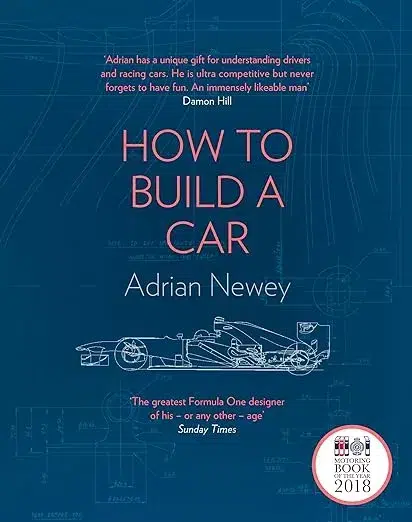 Buy an F1 Car, well just a part of one
It might sound crazy but you can actually buy parts of formula 1 cars. It isn't always from a car that actually raced sometimes is spares, from testing cars, or from other parts the team have produced and don't use. Either way they are still really impressive to hang on your wall and will absolutely have the wow factor you want. If you still want to know how to buy an F1 car, we do have an article about that.
The one below is Max Verstappen 2023 Official Red Bull Replica Bodywork & Photo is a distinctive collectible for fans of Formula 1, especially those who admire Max Verstappen's racing prowess. This piece features official Oracle Red Bull Racing RB19 replica bodywork, specifically a hand-cut section from an official show car, making each piece unique and one-of-a-kind. Accompanying this bodywork is a photograph by F1 photographer James Moy, capturing Verstappen in action during the 2023 season. The entire piece is professionally framed, measuring 445mm in height, 450mm in width, and 30mm in depth.
In 2023, Verstappen achieved the remarkable feat of becoming a three-time World Champion, setting new records for consecutive race wins and surpassing Ayrton Senna's number of victories. This collectible not only commemorates Verstappen's historic season but also marks a milestone in Red Bull Racing's history, as he contributed to their 100th race win. It's a way for fans to celebrate Verstappen's achievements and keep a piece of F1 history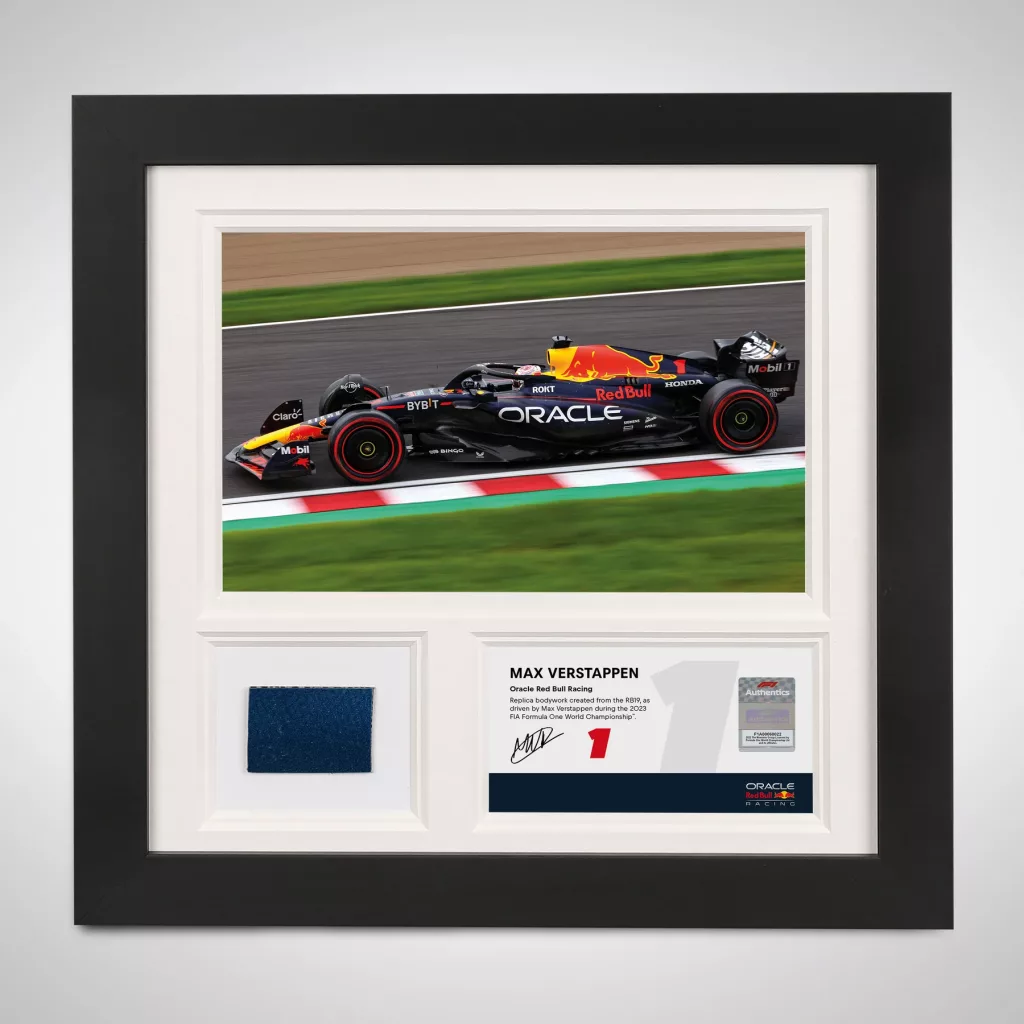 If you don't want something so pristine, there are other f1 car parts you can buy.
Driver Helmet either 1:1 or 1:2 scale
Having drivers helmets are also pretty cool, they are typically not the actual helmets as the drivers usually keep them or give them to VIPs but you can buy replicates (also probably smell better!)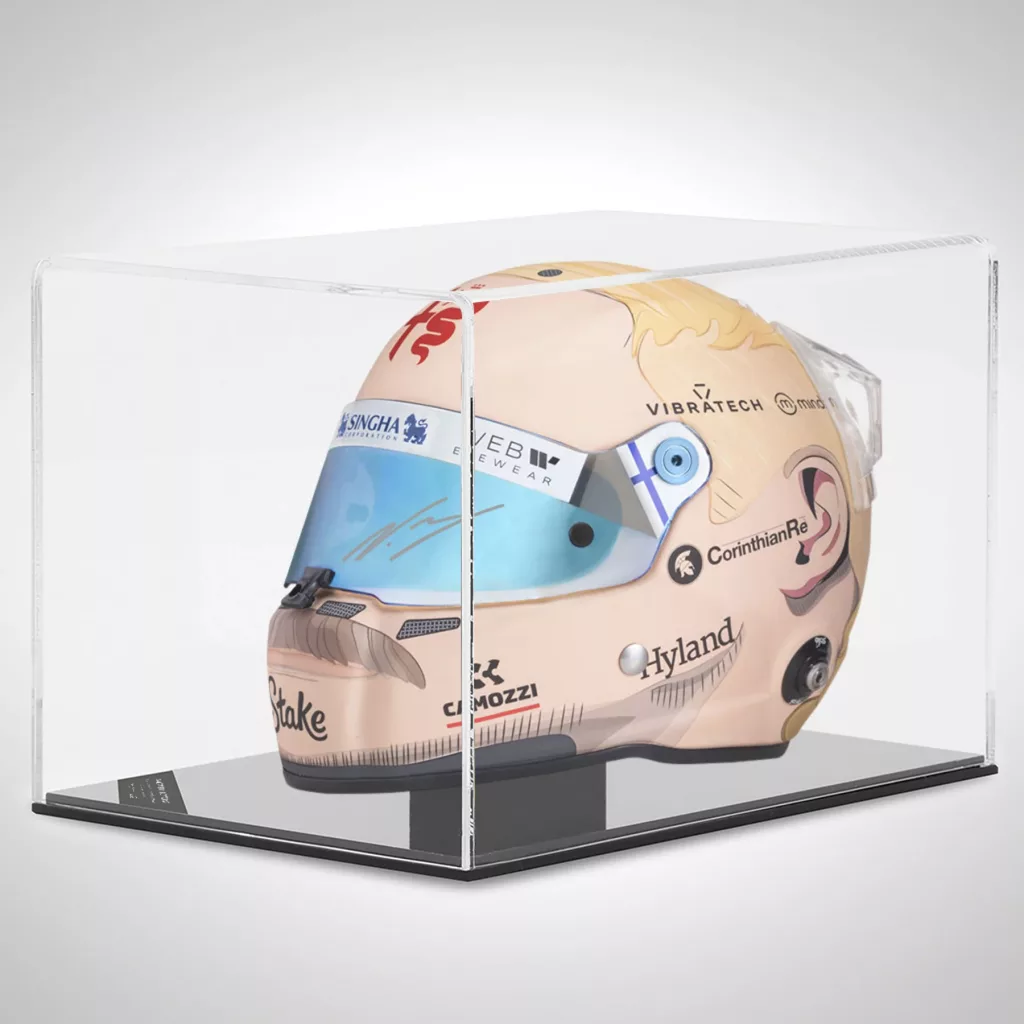 The Valtteri Bottas 2023 Signed 1:2 Scale Helmet, dubbed the 'Mullet & Moustache' Edition, is a remarkable piece of memorabilia for any Formula 1 enthusiast. This half-scale helmet replicates the one worn by Bottas, a driver for the Alfa Romeo F1 Team Stake, during testing in Bahrain ahead of the 2023 F1 season. Its unique design, featuring Bottas's iconic mullet and moustache, captured the attention of the F1 community, making it a standout item​​.
In addition to its eye-catching design, the helmet is signed by Bottas himself, adding to its rarity and value as a collectible. It's made using materials similar to the original helmet, ensuring authenticity. The helmet comes in a display case, allowing collectors to showcase this mini replica prominently. The display case measures 23cm in length, 16cm in width, and 15.2cm in height, providing a compact yet impressive display​​.
Importantly, this collectible also supports a noble cause. 10% of the proceeds from its sale are donated to 'Movember,' a charity focused on men's health issues, including mental health, suicide prevention, prostate cancer, and testicular cancer. By purchasing this helmet, collectors not only own a piece of F1 history but also contribute to vital health initiatives​​.
F1 2024 Season – Schedule Poster
Never miss a race with the 2024 f1 schedule as a poster, put it up on your wall available in both black and white. Not only does it show the country, the date, the name of the race track it also gives you a count of the turns, and where each DRS zone is and the sectors. Makes it much easier to visualize and follow along – and hopefully you will never miss a race. We hope next year it also tells you which weekends are sprint weekends, as if you are a real fan you will know that it messes with your schedule!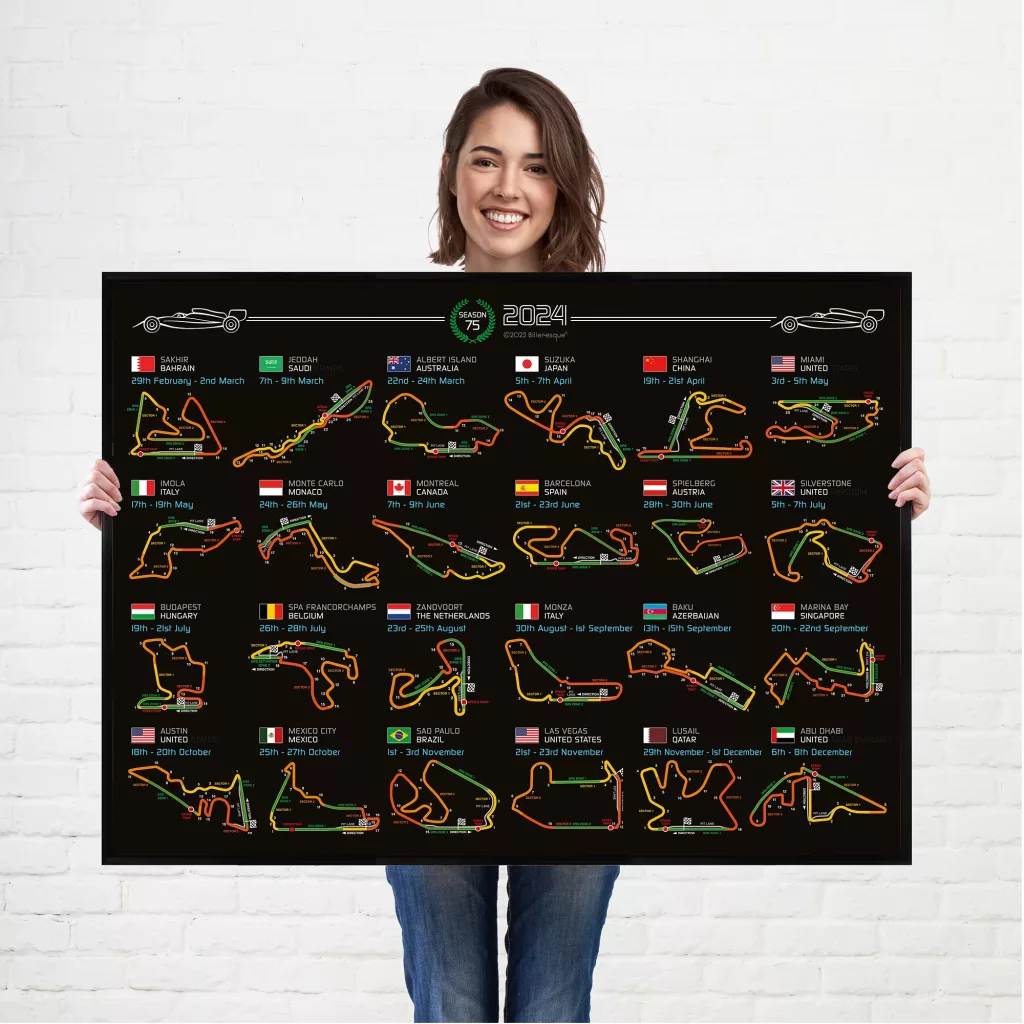 Visual History of Formula 1 Poster
This design is pretty impressive, it is only up to 2021 but is still pretty awesome. If you're buying for a Formula 1 aficionado with a penchant for stats and a bit of wall space to spare, this is perfect. It's a professionally produced print that showcases the statistical backbone of Formula 1's exhilarating history, making it not just a poster, but a conversation starter. Showing how teams, and drivers moved through the years and traces the history of the teams and drivers and who won.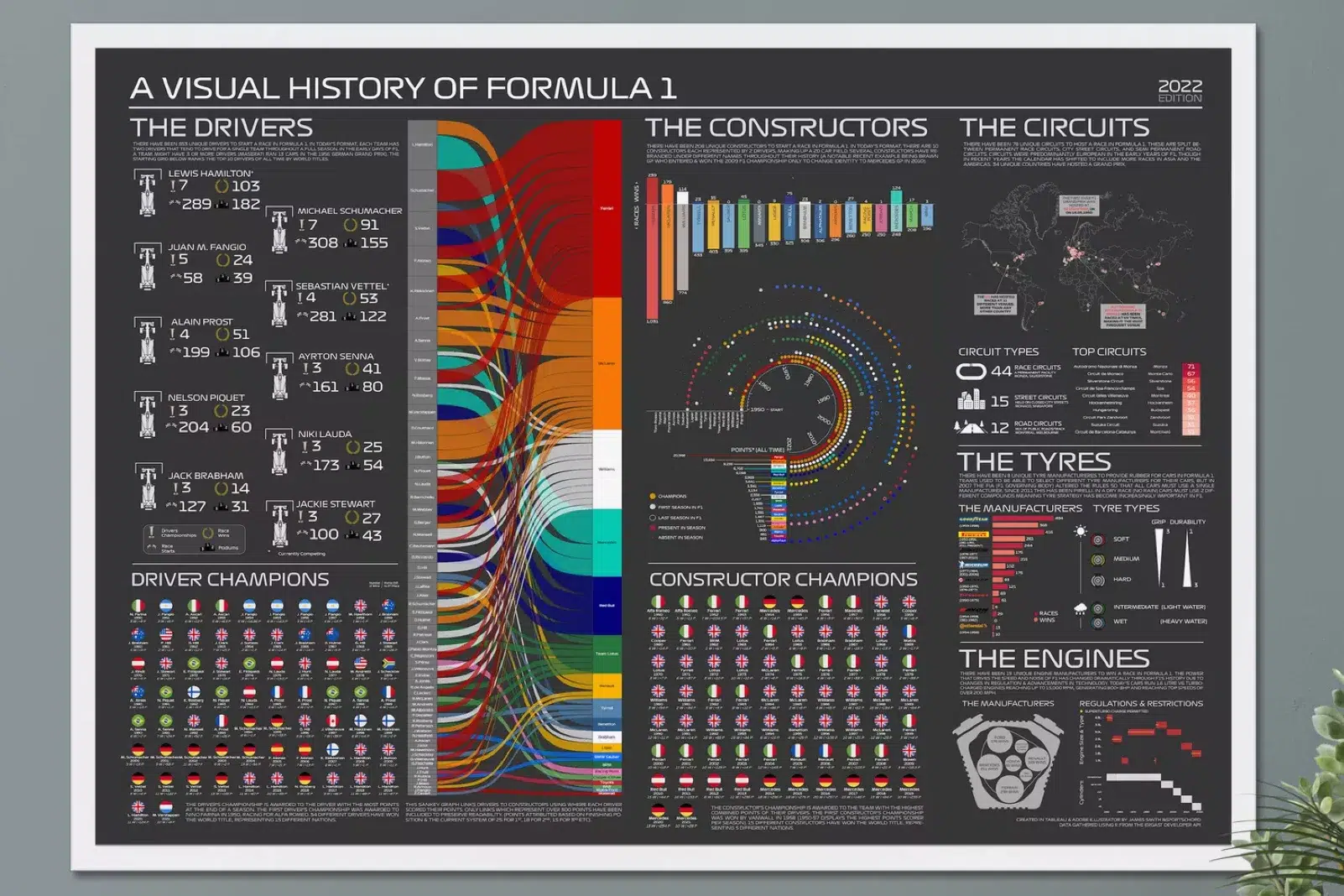 F1 Christmas Gifts for Her
When searching for the perfect F1 Christmas gift for her, consider a piece of sophisticated F1 model car jewelry. Imagine a delicate necklace with a pendant shaped like her favorite F1 model, crafted in sterling silver or even gold. It's a chic and understated way to celebrate her passion for the sport. Alternatively, a customized F1 model car display case, perhaps with built-in lighting and a plaque that can be personalized with her name or a special message, could be an elegant addition to her collection, allowing her to showcase her favorite model cars in style.
F1 Christmas Gifts for Him
For him, an F1 Christmas might be splendidly marked with a high-end collector's F1 model car, an exact replica of his favorite team's vehicle, complete with the minute details and sponsor decals. This gift would take pride of place in his office or den. To complement this, consider gifting a set of luxury coasters, each bearing the likeness of a different classic F1 model car. They're practical, yet serve as a constant reminder of the thrilling world of Formula 1, merging his love for the sport with everyday utility.
Christmas Gifts for F1 Fans
For the F1 aficionado in your life, Christmas can be the perfect time to gift something that fuels their excitement for the sport. An F1 model car kit is an engaging present, allowing fans to build and experience the intricacy of their favorite cars in miniature form. This could be accompanied by a book that dives into the history of Formula 1, featuring photos and stories behind iconic F1 model cars, drivers, and races. It's a gift that would provide hours of enjoyment both in the assembly and the reading.
Unusual Christmas gifts for F1 Fans
For those looking to surprise an F1 fan with something truly unique, consider a custom-made F1 model car lamp, where the car itself is incorporated into the design and lights up, serving as a conversation starter and a tribute to their passion. Another distinctive choice could be a vintage F1 model car turned into a sophisticated desk organizer, complete with pen holders and a slot for business cards or phone stand – a quirky and functional addition to their workspace.
Best Christmas Gifts for F1 Fans and what to get them for Christmas
The best Christmas gifts for F1 fans are those that blend their passion with practicality. An expertly-crafted F1 model car set that includes models from various eras of the sport could become a treasured heirloom, admired for its craftsmanship and historical value. Pair this with a subscription to a premium F1 streaming service for the upcoming season, ensuring they won't miss a moment of the action. This combination of past and present is sure to delight any F1 enthusiast.
F1 Secret Santa
The secret Santa challenge for an F1 fan could be met with creativity and flair. A miniature F1 model car keychain is not only practical but also a daily reminder of their favorite sport. If you're looking for something more interactive, a set of F1 model car coasters, each printed with a different car or race track, can spark conversation and bring a bit of the F1 spirit to their coffee table. These gifts are small enough to be a secret Santa surprise but significant enough to be memorable.