| Gift Category | Description | Price Range | Notable Items |
| --- | --- | --- | --- |
| Diecast Models | Durable replicas of Mercedes F1 cars for collectors | $70 – $250 | Mercedes AMG F1 W11 EQ Performance, Mercedes AMG F1 W13 E Performance |
| Apparel & Accessories | Mercedes themed clothing and accessories | Various | Teamwear, Hats, Shirts, Jackets, Accessories |
| Books & Magazines | Informative materials on Mercedes F1 history and achievements | Various | Biographies, Technical Books, Official Mercedes Magazine |
| Posters & Stickers | Decorative items featuring Mercedes F1 imagery | $50 – $200 | Race Moments Posters, Vintage Posters, Mercedes Decals |
| Experiences | Unique F1 experiences like driving a Mercedes or attending a GP | Various | Driving Experiences, Ride Alongs, Grand Prix Tickets, Travel Packages |
Mercedes has been a dominant force in Formula 1, with a heritage rich in success and innovation. If you have a Mercedes F1 aficionado in your life, finding the perfect gift to fuel their racing passion is now a breeze with DiecastF1.com. From rare diecast models to race-day experiences, we've curated a list of gift ideas that will send their hearts racing. Dive into this guide and discover the ideal gift for your Mercedes fanatic.
Diecast Models: A Collector's Dream
Diecast models are the perfect gift for those who appreciate the aesthetic and engineering of F1 cars. They capture the sleek design and racing spirit of the real machines, making them a collector's dream.
Choosing a diecast model can be an adventure of its own. The key lies in the details – the scale, the driver, the year, and the price. At DiecastF1.com, you can find a range of Mercedes diecast models that cater to different tastes and budgets.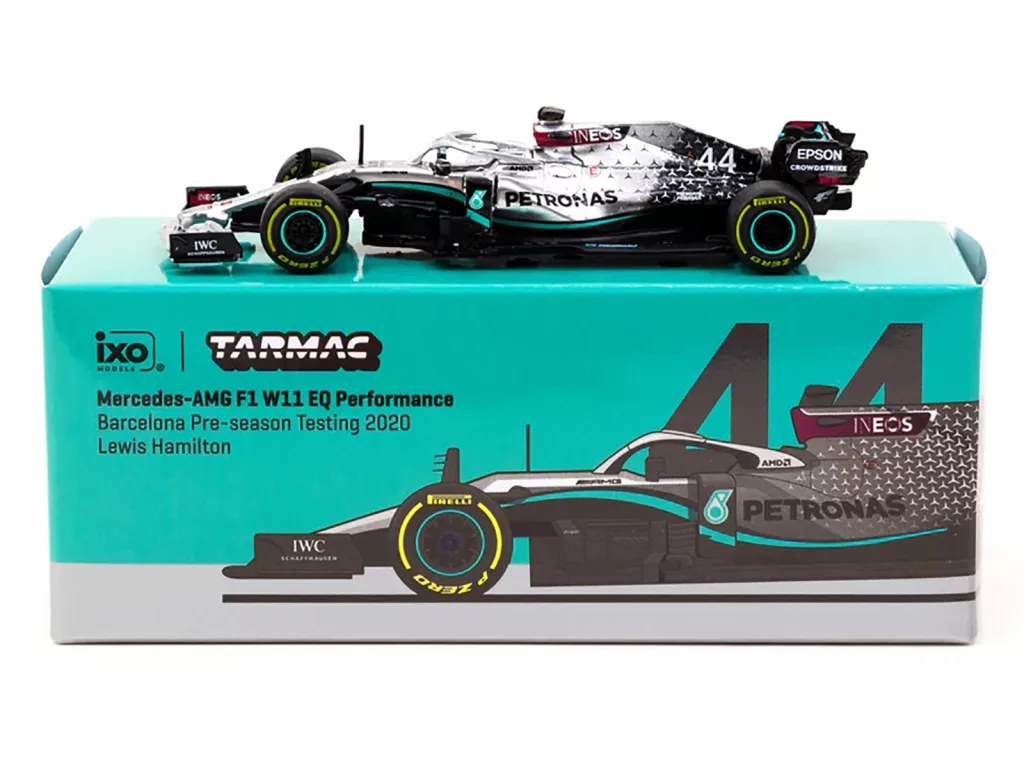 One remarkable model is the Mercedes AMG F1 W11 EQ Performance #44 Lewis Hamilton Barcelona Pre Season Testing 2020 Global64 Series 1/64 Diecast Model Car by Tarmac Works. This model encapsulates the precision and elegance of Mercedes cars, representing a significant period of Mercedes' F1 journey.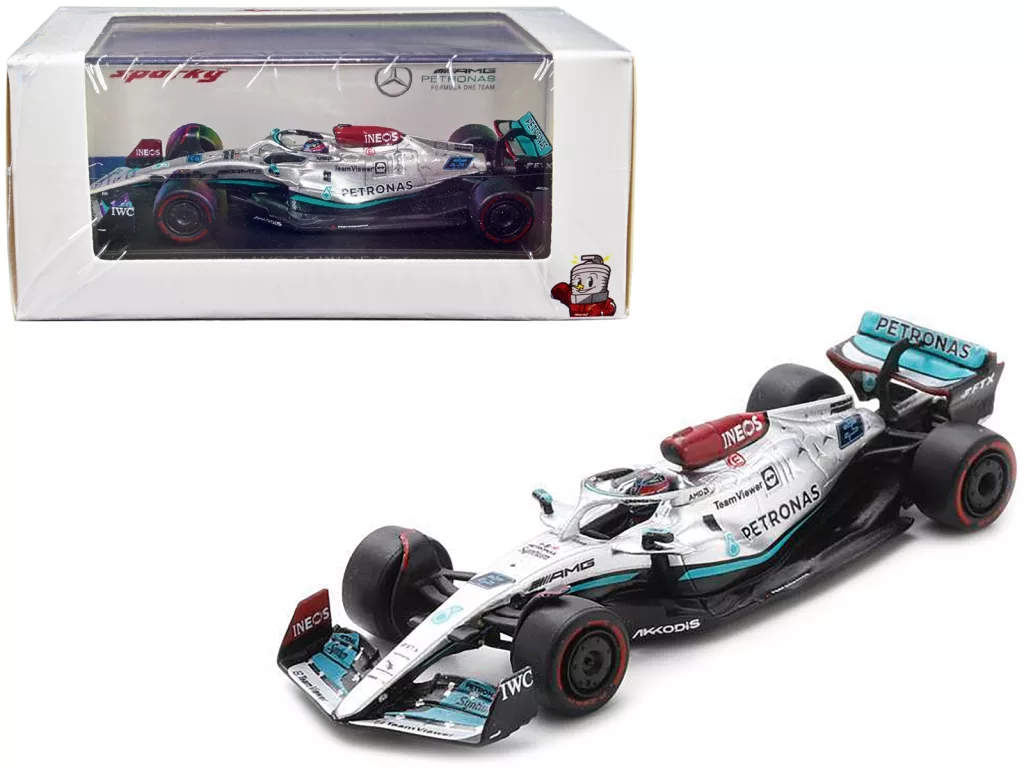 For fans of the latest F1 season, the Mercedes AMG F1 W13 E Performance #63 George Russell Petronas F1 Formula One World Championship 2022 1/64 Diecast Model Car by Sparky is a great choice. It symbolizes the continuation of Mercedes' legacy with new talent behind the wheel.
Apart from these, there are other classic or special edition Mercedes models available that would make any collector's heart skip a beat. Each model tells a story of a race, a victory, or a moment in time, making them more than just collectibles. They are pieces of history, a tribute to the relentless pursuit of excellence that defines Mercedes in the realm of Formula 1.
Spoiling your Mercedes lover with a diecast model from DiecastF1.com is not just gifting a model; it's gifting a piece of F1 history, a narrative of speed, precision, and victory. Discover the range of diecast models and find the one that resonates with the Mercedes fan in your life.
Apparel and Accessories: Wear the Pride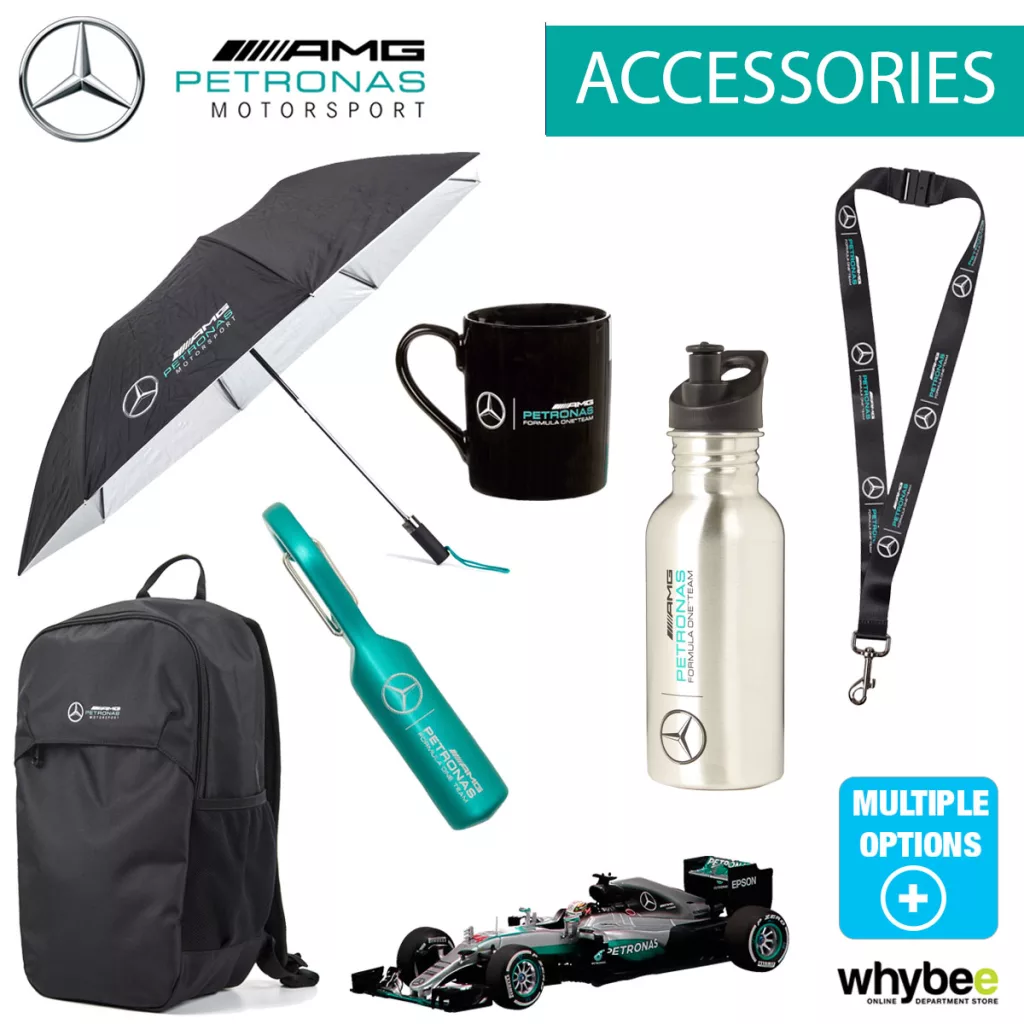 For the fervent supporters of Mercedes, wearing apparel or sporting accessories adorned with the team's insignia is more than just a fashion statement—it's a display of allegiance and a part of their identity. The right piece of clothing or accessory allows them to carry the essence of the racing circuit with them, wherever they go.
Here's a glimpse into the variety of items awaiting your discovery:
Teamwear: Officially licensed clothing worn by the Mercedes team members, offering a professional and unified look.
Hats: From caps to beanies, find the perfect headwear to shield against the sun or complete an outfit.
Shirts: A range of T-shirts and long-sleeve shirts adorned with Mercedes logos, perfect for casual wear.
Jackets: Embrace the Mercedes identity with windbreakers, raincoats, and fleece jackets that blend style with utility.
Accessories: An array of items like mugs, keychains, backpacks, and wallets to infuse the Mercedes spirit into daily life.
Among the myriad of items, the official Mercedes teamwear stands out. Donning the same apparel as the team not only offers a sense of belonging but also resonates with the high standards associated with the Mercedes brand. It's more than just clothing; it's a symbol of the team's pursuit of excellence and the shared passion among fans.
Whether you choose a sleek team jacket, a hat bearing the Mercedes logo, or a keychain as a subtle nod to their F1 allegiance, each item collection serves as a daily reminder of the thrill and camaraderie of Formula 1 racing. It's not merely a gift; it's a way for fans to wear their pride and showcase their support for a team that has become synonymous with success and innovation in the realm of Formula 1. So, dive into the Mercedes shop and find the perfect piece that reflects the indomitable spirit of a Mercedes F1 aficionado.
Books and Magazines: Delve into the Legacy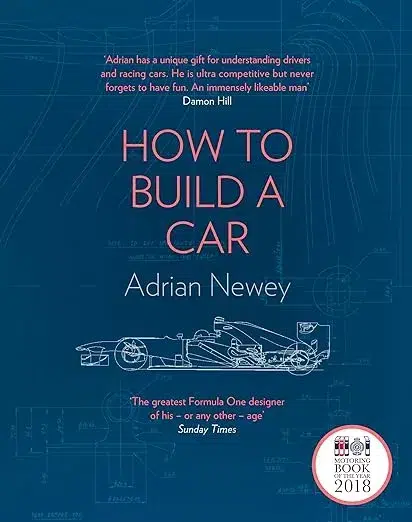 Formula 1 is a rich tapestry of technological innovation, legendary personalities, and dramatic racing moments. For aficionados who revel in the technical intricacies or the storied legacy of Mercedes in Formula 1, a well-curated selection of books and magazines can serve as a gateway to a treasure trove of knowledge and narratives.
DiecastF1.com, along with other online platforms, offers a plethora of informative and engaging reads that promise a unique exploration into the heart of Mercedes' racing saga. From the engineering marvels that powered Mercedes to victory to the indomitable spirit of drivers who steered through challenges on the track, every page turned unveils a facet of what makes Mercedes a titan in the F1 domain.
Here are some types of reads you might consider:
Books:

Biographies of Mercedes legends like Juan Manuel Fangio, Michael Schumacher, Lewis Hamilton, capturing the essence of their journey on and off the track.
Technical books delving into the innovative engineering and aerodynamic designs that have kept Mercedes at the pinnacle of F1.

Magazines:

The official Mercedes magazine, offering a window into the present-day endeavors and future aspirations of the team.
F1 Racing magazine, providing a broader view of the Formula 1 landscape, with special features on Mercedes' pursuits.
Autosport magazine, a reputable source of in-depth analysis and exclusive interviews with Mercedes' team members and drivers.
Each book or magazine is a journey through the annals of Mercedes' legacy, offering a rich blend of knowledge and entertainment. This makes them a sublime choice for those who wish to delve deeper into the essence of Formula 1, making them a top pick in our best gifts for Formula 1 fans list. The essence of racing transcends the tracks and finds a way into the words and illustrations that these books and magazines hold, making them a perfect gift for someone enchanted by the allure of Formula 1 and Team Mercedes.
Posters and Stickers: Decorate with Racing Essence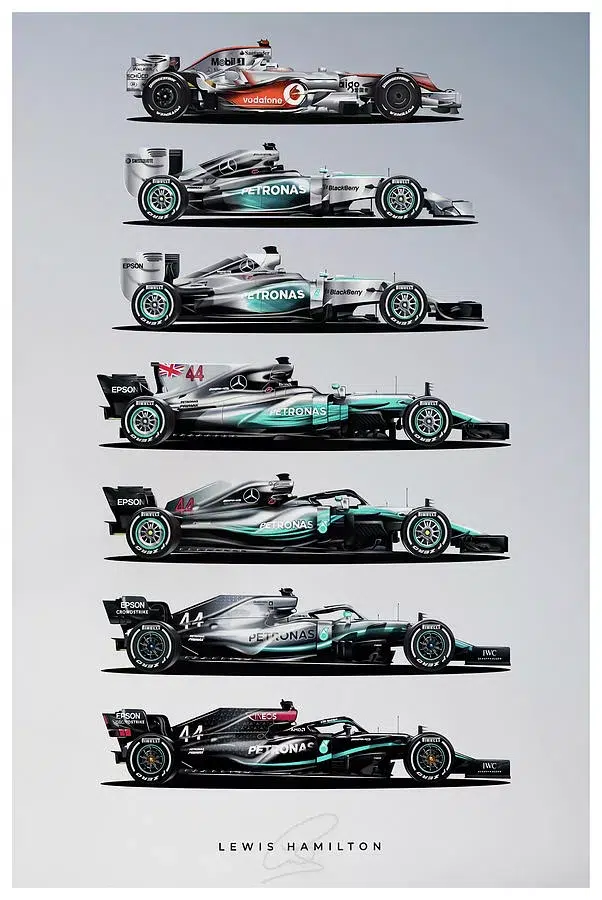 For the Mercedes F1 enthusiasts, surrounding oneself with posters and stickers of the beloved team or favorite driver is a way to keep the racing spirit alive in their daily lives. These decorative items enable fans to personalize their space, be it a room, a workstation, or a personal garage, with the thrilling imagery of Mercedes F1.
Visual reminders of the exhilarating world of Formula 1 can evoke the emotions of race day, every day. Posters and stickers are not just decorative items; they are conversation starters, fueling discussions about memorable races, legendary drivers, and the innovative technology that makes Formula 1 a pinnacle of motorsport.
Here's a glimpse into the variety of decorative items awaiting you:
Posters:

Large prints showcasing Mercedes cars in action, capturing the essence of speed and competition.
Vintage posters of Mercedes' historic moments, a tribute to the glorious past.
Motivational posters featuring quotes from Mercedes drivers or team principals, serving as a daily source of inspiration.

Stickers:

Small decals of Mercedes logos or cars, allowing a subtle nod to team allegiance.
Stickers featuring the helmets or numbers of Mercedes drivers, personalizing spaces with icons of racing prowess.
Stickers commemorating Mercedes' achievements, serving as a visual testament to the team's dominance.
Whether it's a poster of Lewis Hamilton crossing the finish line or a sticker of the iconic Mercedes logo, these items serve as a constant reminder of the thrilling world of Formula 1. They're not just gifts, but a way to bring the exciting ambiance of the racetrack into everyday spaces. The dynamic imagery, sleek designs, and the essence of high-speed competition encapsulated in these items make them a fantastic choice for any F1 aficionado looking to revamp their surroundings with a touch of Mercedes F1 flair.
These decorative items are easy to find on various online platforms, including DiecastF1.com, where a diverse array of posters and stickers awaits to fuel the Mercedes passion in any F1 enthusiast's heart.
Experiences: The Ultimate Gift for Fans Who Want to Live the Thrill
For the die-hard Mercedes F1 enthusiasts, nothing compares to the exhilaration of feeling the roar of the engines, the rush of speed, and the electric atmosphere of a live race. Gifting an experience is akin to gifting memories that will be cherished forever. From the strategic maneuvers on the track to the hustle in the pit lanes, these experiences are as close to the real racing action as a fan can get.
Booking thrilling and unforgettable experiences or securing tickets to a Grand Prix can be achieved through various online platforms. These are not just gifts but an invitation to live the fast-paced life of an F1 racer, even if it's just for a day.
Here are some exhilarating experiences to consider:
Driving Experiences:

Have the thrill of a lifetime by driving a Mercedes car on a track or road under professional guidance and instruction. Feel the G-force as you maneuver through corners and accelerate on straights, experiencing the blend of engineering excellence and driving skill.

Ride Alongs:

Ride shotgun with a professional driver in a Mercedes car on a track or road. Experience the finesse and skill as they navigate through the circuit, providing a firsthand look at what it takes to compete at the highest level.

Tickets:

Secure tickets to attend a Grand Prix in person, witnessing the action live from the stands or the paddock. Soak up the race day atmosphere, the strategy, and the camaraderie among fans, creating memories that will last a lifetime.

Travel Packages:

Make a vacation out of a racing adventure by booking a travel package to a Grand Prix destination. Enjoy the culture, cuisine, and attractions of the place, immersing in the full F1 experience.
Each of these experiences offers a unique perspective on the world of F1 racing, making them top-tier gifts in our Mercedes F1 fan gift guide. Whether it's feeling the rush of acceleration on the tracks or being amidst the electric atmosphere of a live race, these experiences are bound to satisfy the racing thirst of any Mercedes F1 enthusiast. So, gear up to gift an adventure that ignites the racing spirit and keeps the Mercedes F1 legacy roaring in the hearts of your loved ones.
Conclusion
As the checkered flag waves on our exploration of Mercedes F1 memorabilia and collectibles, we've navigated through a realm of gifts that resonate with the spirit and legacy of Mercedes F1. From tangible models and stylish apparel to enlightening reads and adrenaline-fueled experiences, the gifts encapsulated in this guide are more than mere objects; they are vessels carrying the essence of Formula 1 and the indomitable spirit of Mercedes.
Recapping our pit stop at each category, we unveiled:
Diecast Models: Perfect for collectors and displayers, immortalizing the sleek Mercedes machines in miniature form.
Apparel and Accessories: A way for fans to wear their allegiance on their sleeves, quite literally.
Books and Magazines: A gateway for those keen on delving deeper into the annals of Mercedes' storied history.
Posters and Stickers: Ideal décor items to imbue any space with the high-octane ambiance of F1 racing.
Experiences: The ultimate gift for those yearning to live the thrill of Formula 1.
Your quest to finding the perfect gift for a Mercedes F1 aficionado has been turbocharged with a selection that promises to fuel the racing spirit. Each item or experience is a tribute to the rich legacy of Mercedes F1